Driving faster than the speed limit can be costly for motorists, according to new research from AAA. The latest testing shows that driving even five miles over the speed limit has a negative impact on fuel efficiency and increases driving costs.
With gasoline prices at a seven-year high, the Automobile Club of Southern California's Automotive Research Center (ARC) conducted tests on a range of vehicles. During testing, each vehicle's speed was increased from 60 miles per hour to 85 miles per hour in 5-mile-per-hour increments. The ARC found that fuel economy decreased by an average of 9 percent when traveling at 70 mph instead of 65 mph.
"Not only is speeding dangerous, motorists should slow down to improve fuel efficiency and save money," said Jim Garrity, director of public affairs, AAA East Central. "Recent AAA research shows driving at higher speeds increases the likelihood of severe injuries or death in a crash."
Auto Club Automotive Research Center Fuel Efficiency Test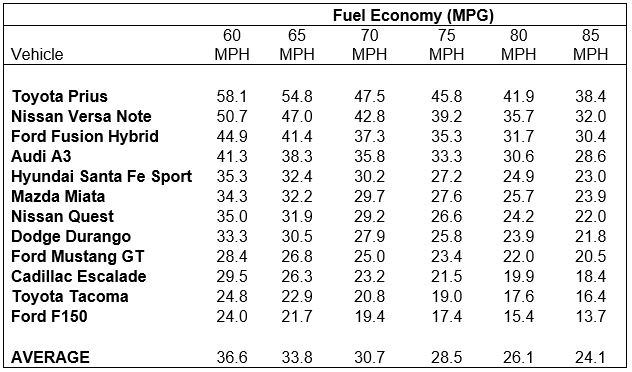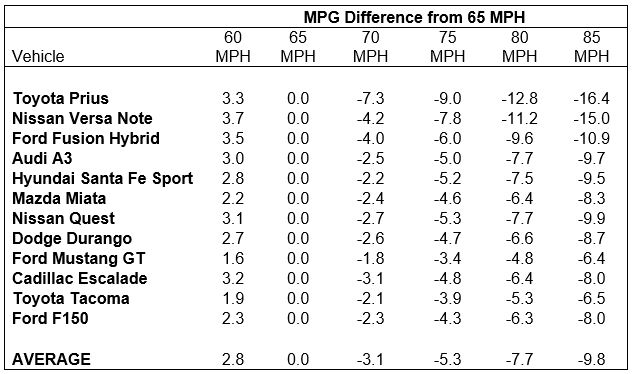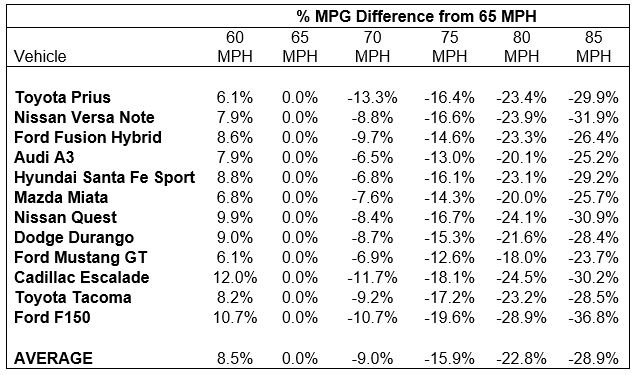 When would consumers change driving habits to offset higher gas prices?
AAA surveyed consumers and found the vast majority would change their driving habits or lifestyle to offset higher gas prices. One in four across the nation say they would start making changes at $2.75, while 40 percent say $3 a gallon is their tipping point.
Motorists who want to reduce fuel consumption and save money can do so by moderating their driving style. Vehicles use less gasoline when habits like warming up an engine, sudden starts and speeding are eliminated.
In addition to driving the speed limit, instead of over it, AAA recommends some other ways to conserve fuel this summer:
Optimize your daily driving habits. Maintain steady speeds. A car uses more fuel accelerating. Cruise control may be a fuel-saving option for motorists who do a lot of highway/freeway driving because a steady speed conserves fuel.
Minimize last minute braking. Anticipate traffic conditions. Be alert for slow-downs and red lights and coast up to them, if possible. Drive smoothly, avoiding "jack rabbit" starts. Remember, however, that traveling slower than traffic flow can cause a safety hazard.
Make sure you shop around. Looking for low gasoline prices in their local communities may save motorists money. Consumers may easily shop around online by using tools such as the free AAA app, which automatically displays the lowest gas price near the user on the home screen. Traveling long distances to save a few cents wastes fuel and may cost motorists more money.
Share work or school rides by carpooling or consider public transportation. Sign up for carpooling through your employer or ask around your office and neighborhood if ridesharing is possible. Employers, in some cases, offer a monetary incentive for car or van pooling.
Do not use your trunk for storage. The heavier the car, the more fuel it uses. Remove golf clubs, full backpacks, and other items that don't belong in the vehicle, but leave the spare tire, if there is one, in the trunk. Reducing extra weight can save up to two percent fuel economy for every 100 lbs. removed from the vehicle, depending on the vehicle. Also lose the roof rack, if it's not being used regularly. Carrying things on a roof rack increases aerodynamic drag and reduces fuel economy year-round, not just in the spring and summer.
Combine errands. Plan your route and look for a location where you can take care of all or most errands. If possible, park in a central spot and walk from place to place.